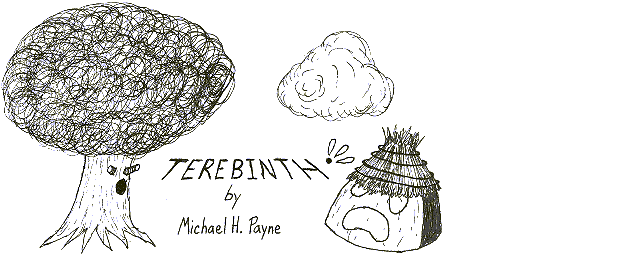 A New Page
Will be Posted
Each Monday.




I find myself thinking that it might very well be Kestrel's turn to exchange semi-grouchy poems with Lamont...
If you're looking for more stories by me, there's always the option of visiting my Amazon Author page, too. I've got about a dozen of my previously published short stories for sale over there as well as a couple novels.
I've also discovered that the nice people at Blogspot have one of them fancy RSS feeds. So you can subscribe to it and have links to the latest Terebinth pages delivered right to your virtual doorstep. The URL to add to your RSS reader—or whatever you use—is http://hyniof.blogspot.com/feeds/posts/default?alt=rss, and thanks to the guys over in The Webcomic List Forums for making me think about all this. Ah, technology...
Or if you'd like to see me flail about with more technology, I've gone and gotten myself a Facebook page. I'm posting nothing but poetry there, so if you don't get enough of that with Kestrel's regular outbursts, it might be just the place for you!

There's things at the bottom of the page here, too: a link to the Cast Page; a link to a place where folks can comment on the pages; and, of course, the Web Counter. More comics for your perusal can be found on the Comix Link Page, and I've got an About the Author page up in case you've been wondering.